Zuljanah, a pet horse symbolically named after Imam Hussain's (AS) steed, is a major source of inspiration for mourners recalling the martyrdom at Karbala.
"Zuljanah, O zuljanah, come to my house," children chant, waiting for the sacred horse on the processional route or outside their houses. The tradition of brining a zuljanah to selected houses in Muharram 10 processions is still practiced in many Pakistani towns, but in large cities like Lahore, the zuljanah has gradually been decentralized.
The procession is usually taken out on Muharram 9 and 10, to commemorate Imam Hussain's (AS) martyrdom at Karbala 1,368 years ago. The tradition began in the subcontinent about 800 to 1,000 years ago, with Taimurlane's arrival. It was gradually adopted throughout the subcontinent and became a religious icon, becoming a fundamental part of Muharram 10 processions.
After partition, Lahore's main zuljanah procession was taken out from Nisar Haveli among a few other places but in the next 10 to 15 years, the Bukharis, Sadaat-e-Niaz Beg and other Shia families also began to follow the tradition.
Because of the city's increasing population, the number of processions increased. Currently, there are about 100 zuljanah procession in Lahore every year in Muharram.
Zuljanah- Prophet's gift to Imam Hussain
Zuljanah was a pet horse presented by the Prophet Muhammad (PBUH) to Imam Hussain (AS) when he was young. The horse was named Murtajiz, but when the horse was riddled with arrows on both sides in the battle of Karbala, Imam Hussain (AS) called it zuljanah, a horse with two wings.
According to the legend, when Husain ibn Ali was a mere child and learning to crawl, he used to go to the stable of Zuljanah and look at it. Once the Prophet of Islam said that his grand son was curiously looking at the horse as if some mysterious conversation was taking place, so the Prophet asked the child if he wished to ride the horse and on being answered the Prophet Muhammad PBUH ordered the horse to be mounted and when Husain ibn Ali approached the horse it amazingly lowered itself to the ground allowing the child to mount him.
In the Battle of Karbala
Husain ibn Ali used the horse and went to the battlefield. According to a collection of Hadith, the loyal horse on its own killed 60 enemies of Husayn ibn Ali in the Battle of Karbala.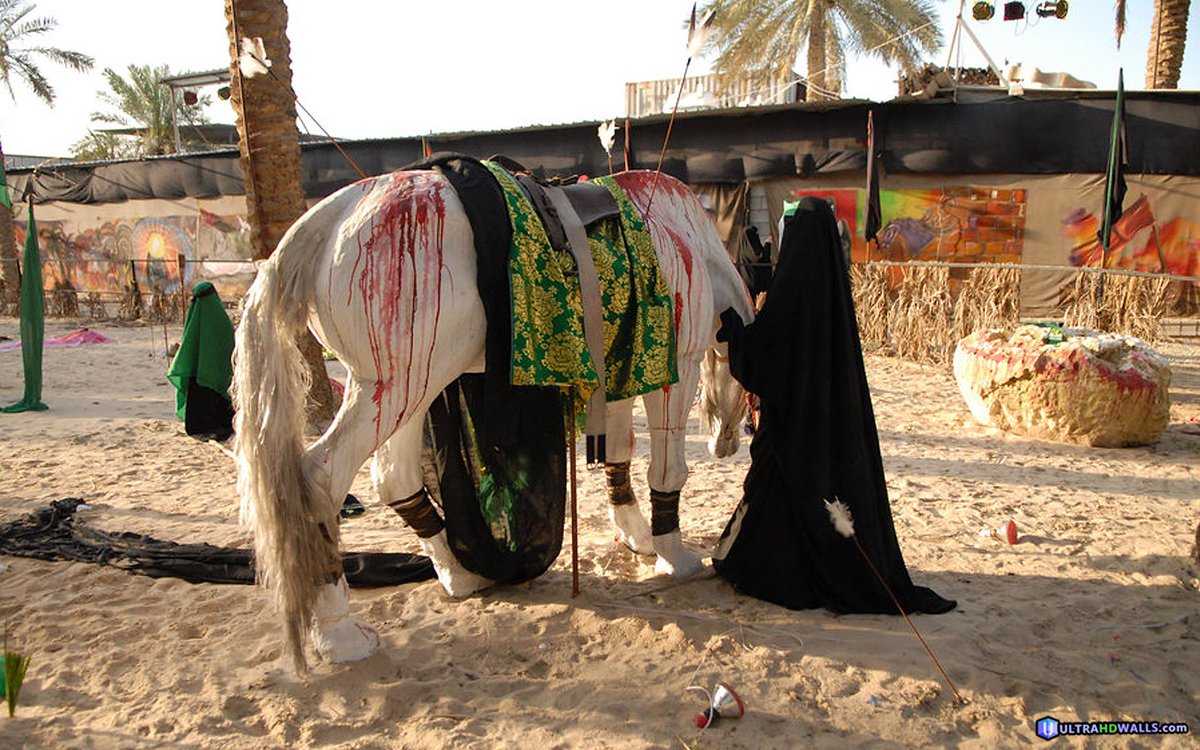 After the martyrdom of Husayn ibn Ali, Zuljanah went to the camps of Zainab bint Ali and then went to the Euphrates River never to be found again.