Protests are expected across the UK on Saturday as the clock ticks down on a campaign to block a no-deal Brexit through court action or emergency legislation in parliament.
Demonstrations are planned in London and elsewhere against Prime Minister Boris Johnson's decision to prorogue parliament a move that increases the chances of Britain leaving the European Union without agreement.
With only 61 days until the October 31 deadline for Britain's withdrawal, anti-Brexit politicians and campaigners are running out of time to prevent a no-deal Brexit, which business leaders say will disrupt Britain's economy and could even lead to shortages of food or medicine.
Meanwhile, France is firming up preparations for a chaotic Brexit. Europe minister Aurelie de Montchalin revealed on Friday that "given how things are going, it's probable" that Britain will leave with no plans for how to handle trade, travel and cross-border business the next morning.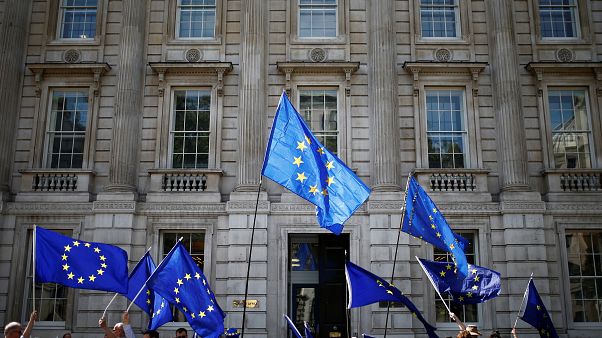 British government minister Michael Gove visited the French port of Calais Friday evening to study Brexit preparations.
'Civil disobedience'
The main organizer of Saturday's protests is Another Europe, an umbrella campaign group linked to the opposition Labor Party, trade unions and affiliated groups.
Michael Chessum, its national organizer, is a supporter of Labor leader Jeremy Corbyn.
"We're expecting hundreds of thousands of people to take part in a massive wave of protest action and civil disobedience against Boris Johnson's attempts to shut down Parliament to deliver on his Brexit agenda," he said.
Notably, there are separate protests, including one that took place on Friday outside the British embassy in Brussels.
Preventing a no-deal Brexit by law
The House of Commons is still on summer recess until Tuesday. Corbyn has already indicated he will try to pass legislation outlawing a no-deal Brexit or move to block the prorogation of parliament as soon as it reconvenes.
Furthermore, a growing number of rebel lawmakers in Johnson's own Conservative party have been in discussions with Labor and anti-Brexit Liberal Democrats about grouping together to pass a law forcing Johnson to request an extension of Article 50 beyond October 31.
However, to do this they would need to introduce the legislation and pass it within three days a significant challenge, even if the opponents and rebels could out-vote Johnson's government.
Moreover, one option could be to force the House of Commons and House of Lords to sit over the weekend of September 7-8.
Among the Conservative rebels is a former minister, Oliver Letwin.
Cracks forming
Meanwhile, the first cracks are appearing in Johnson's cabinet even before its first meeting after summer.
Chancellor Sajid Javid has reportedly challenged Johnson over the dismissal of an aide by Johnson's top advisor, Dominic Cummings.
In brief, the Financial Times said on Saturday that Javid was "livid" about the firing. "He's absolutely furious," the newspaper quoted a colleague of Javid's as saying.