The International Court of Justice ordered Pakistan on Wednesday to review the death sentence for Jadhav , in a ruling hailed by nuclear rival New Delhi as a "complete victory".
Former Indian navy officer was arrested in Pakistan's restive southwestern province of Balochistan in March 2016, and the case has stoked tensions between the two countries.
Moreover, judges at the UN's top court ruled Pakistan had breached the Vienna Convention on diplomatic relations, which gives countries the right to consular access when their nationals are arrested abroad.
However, the Hague-based ICJ ordered the "effective review and reconsideration of the conviction and sentence" passed on Jadhav, according to a document on the court's website.
Nevertheless, Pakistan "deprived the Republic of India of the right to communicate with and have access to Mr Kulbhushan Sudhir Jadhav, to visit him in detention and to arrange for his legal representation", the judges said.
"A continued stay of execution constitutes an indispensable condition" for the review of the death sentence, it added.
India's Take on Jadhev
Notably, India insists that Jadhav was not a spy and says he was kidnapped in Pakistan. India's lawyers told the court in February that it was a "farcical case" based on "malicious propaganda". The last hearing coincided with a sharp spike in tensions between the two nuclear-armed neighbors after a suicide bombing in restive Kashmir, although relations have since improved.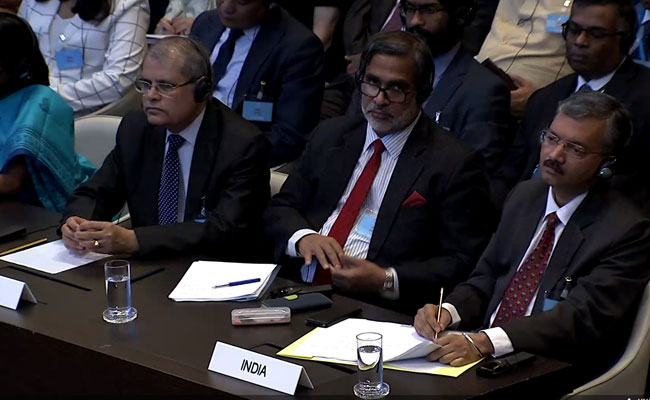 Indian legal team at the International Court of Justice in The Hague
Pakistan's Take
Speaking to media after the announcement of verdict, Shah Mehmood Qureshi said India took the stance that Jadhav was not a spy or terrorist, but the ICJ rejected it. Furthermore, he said Pakistan presented its case in the International Court of Justice in an effective manner.
Moreover, the foreign minister noted the ICJ in its verdict said that Pakistan could review the Jadhav's sentencing by the "means of its own choosing". He said an important thing that emerged from the verdict was that the ICJ did not annul the decision of the Pakistani military court, as sought by India.
"It shows that the legal system of Pakistan is trusted by the whole international community," the Radio Pakistan quoted the minister as saying. Qureshi, in a tweet earlier, said: "Commander Jadhav shall remain in Pakistan. He shall be treated in accordance with the laws of Pakistan."
Special Assistant to PM on Information Firdous Ashiq Awan said that Indian requests for acquittal, re-trial and release of Jadhav were rejected by the international court.
KENZ's Analysis
Notably, the International Court Of Justice also rejected remedies sought by India, including annulment of Mr Jadhav's conviction, his release, and and repatriation.
It's not an acquittal it's just a review. i.e. he has not been cleared of charges just that he should be granted consular access and his case reviewed. I don't think you can term this as biased.
Therefore, the law that is relevant is Pakistan's criminal law, and I cannot put enough emphasis on the fact that it's our domestic law (including any international obligation we've Incorporated in our domestic law).
This would include due process rights (international human rights obligations incorporated on our law). Arguably, the Constitutional guarantees would not apply, since they specifically apply to "citizens". But there's a way around that and that's the Article 4: equality before the law clause, which has been interpreted to mean due process rights. This article applies to all individuals for the time being present in Pakistan.
So in summary it would be our customary international law obligations and our domestic criminal law.
Other than this there is the Vienna Declaration which applies to the extent that foreigners should be granted consular access (something I think the ICJ reiterated).
However, that doesn't mean the home state decides whether they are diplomats or not, it's a decision for the host state and mostly it's determined by the courts if raised before a court of law.
In brief, there is a distinction between jurisdiction to prescribe and jurisdiction to enforce. Host states could assert that according to their laws they decide whether their individuals are diplomats or not. But when they try to enforce this in a hair state, it would fall down onto the cooperation of the host state, which is often settled in domestic courts.
Analysis of Human Rights Violations
Human Rights was not the major issue in this case. India submitted that Pakistan has violated it's obligation under Art:14 ICCPR (due process rights), but the ICJ does not deal with it in merits, because it's jurisdiction did not arise form ICCPR, rather from Vienna Convention.
This being said, our agents do highlight how the Constitution guarantees due process rights, and the right to appeal from military court, but that's contentious. As far as Pakistan's human rights image is concerned, ICJ is not the right forum to raise these issues or to save our image.
It only rules on matters of law. Proper forums would be the UN GA, activities by the foreign offices and our embassies and consulates abroad.
As far as our controversial military courts are concerned, the ICJ does mention there is ambiguity in this regard, but it does not make any assertions whether it amounts to violation of international human rights obligations or not, because that was not ICJ's mandate.

Also, India asserted taht a remedey of "effective review and reconsideration" would only be effective if ICJ dictated a few rules, i.e. no military courts, non-reliance n the confession. The Court does not do so, it leaves it on Pakistan, albeit with qualifications, (not listed in the judgement) I.e. take all measures to provide for effective review, including enacting legislation".
You can take it two ways, a- ICJ trusts our judicial system.
B- iCJ does not trust our judicial system, but is bound by it's charter, and has hinted on a Constitutional amendment, or incorporation of other obligations under international law.
The impact of Judgement according to KENZ
The judgement would have been different if we had to repatriate Jadhav, or of India had asserted a violation of his rights.
The claim was brought under a very restricting treaty, and thus the judgement is also narrow.
It does raise interesting aspects of the ICJ also:
A- composition and national bias.
Only one dissent and that by Pakistan appointee ad hoc judge
B- the consequences of an ICJ judgement and it's dispute resolution capacity in reality.
Here both parties were bound by the compulsory jurisdiction clause, if not I doubt Pakistan would have agreed to ICJ's jurisdiction.
C- analysis of the law by ICJ and it's role in "development" of law. As far as judgements go, this is a very bland judgement.
I mention the last point, since we have lost on all points accept on remedies. Thus, the actual impact of this judgement on the resolution of this dispute becomes interesting. Since clearly Pakistan lost on points of law, but since Pakistan has the national in her territory and under it's jurisdiction, I doubt India was looking for this. So India lost in that front (arguably)