THERE'S BEEN LOTS OF discussion not just about what you should eat, but when you should eat.
The concept of intermittent fasting has been a big debate in the world of nutrition with enough substantiating evidence to argue both sides. The latest study on intermittent fasting examined the timing of the eating window and whether it could help lower appetite and improve fat burning. Here's a look at the latest research in intermittent fasting.
What's Intermittent Fasting?
Intermittent fasting is not a diet of food restriction, but rather a dieting pattern. The theory behind intermittent fasting is based on taking advantage of metabolic differences that take place in the body during times of "fasting" versus times of "feasting." In contrast to the readily available energy available during normal periods of eating (aka "feasting"), periods of "fasting" require the body to rely on fat stores for energy. It's believed that the depletion of fat stores during "fasting" periods leads to weight loss.
Fasting takes place between time-restricted feeding windows. The two main types of intermittent fasting include time-restricted eating and the 5:2 format.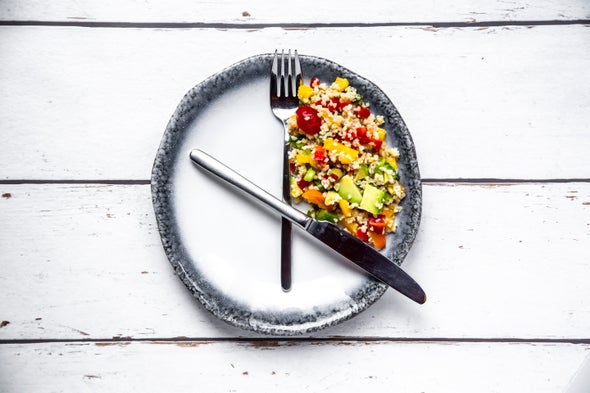 During time-restricted eating, you can eat within an 8-hour window of choice. For example, it could be from 8 a.m. to 4 p.m. or from 12 p.m. to 8 p.m. During the remaining 16 hours of the day no food is consumed, only no-calorie beverages (like water and unsweetened tea).
The 5:2 format is when two non-consecutive days of the week are spent "fasting," with only 25% of daily recommended calories eaten during those two days. If the average U.S. adult consumes 2,000 calories per day, that would mean 500 calories would be consumed on the two "fasting" days. The remaining five days of the week, you could eat your regular diet. This type of intermittent fasting is seen in "The Fast Diet" by Dr. Michael Mosley
From a nutritional perspective, there are pros and cons to following this sort of diet.
Pros
No food is eliminated and all food groups are allowed.
During days when you're fasting, the diet promotes high-fiber foods that will help keep you satiated.
Proper hydration is recommended.
Simple rules to follow. (You just need to know the time.)
Exercise is also promoted.
Cons
You could have a lack of energy, especially if you are following the 5:2 format and consuming only one-quarter of your daily recommended calories.
Symptoms such as lack of concentration, hunger, feeling cold and constipation have been reported.
The concept of healthy eating really focuses on creating healthy daily eating habits, which are not encouraged on this sort of eating plan.
Intermittent fasting is inappropriate for certain folks, including those who are prone to low blood sugar or are on beta-blockers or diabetic medication. It also shouldn't be followed by pregnant or breastfeeding women, children and anyone with an eating disorder.